Save up to 14% on energy use and carbon emissions with Alfa Laval boiler technology that recovers waste heat from your main and auxiliary engines.
From waste heat to added value
Recover heat from both main and auxiliary engines
Meet your steam needs in port and at sea
Systems can boost propulsion
Leverage overlooked heat sources, for example to superheat steam, to meet energy needs and emissions regulations
Integration optimizes recovery and savings
Cut costs and limit CO2 generation. 50% of your main engine's fuel energy goes to heat flow. Alfa Laval's Aalborg technology maximizes waste heat recovery from all sources, benefitting your bottom line and the environment – without compromising onboard safety.
Waste heat recovery solutions for any vessels
Our Aalborg waste heat recovery solutions can improve the energy efficiency of any vessel. Our extensive experience lets us design and install systems that maximize energy gains without any compromise in onboard safety.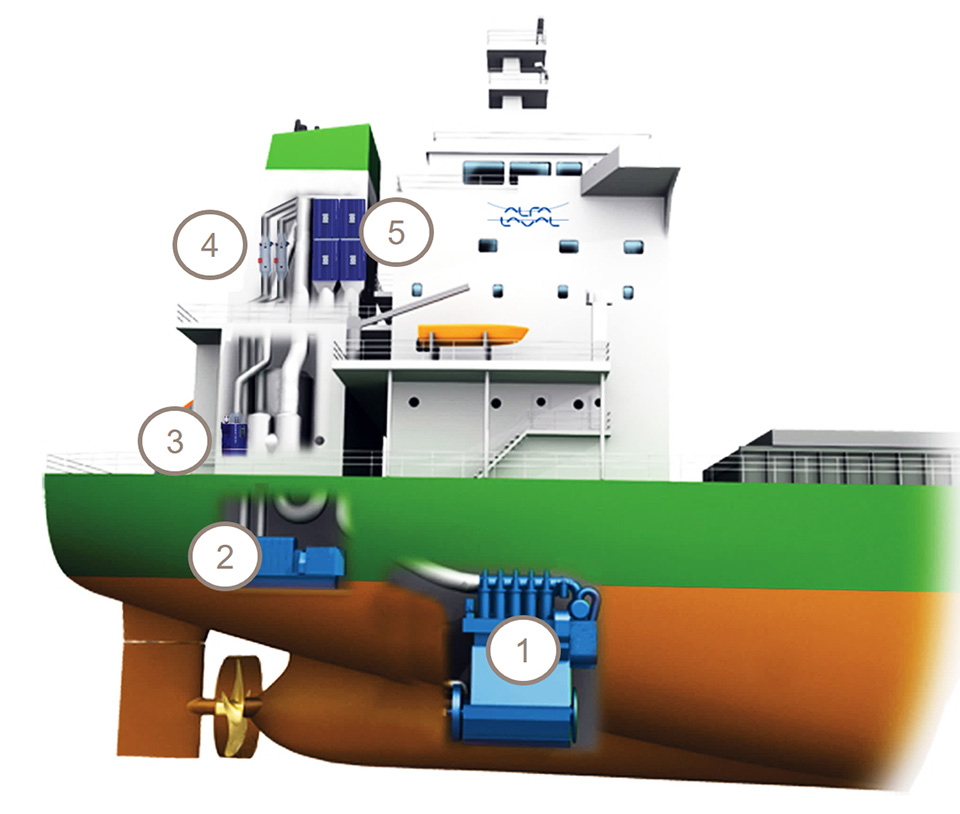 Main engine(s)
Auxillary engine(s)
Oil-fired boiler
Auxillary engine waste heat recovery
Main engine waste heat recovery
Alfa Laval Test & Training Centre
Peralatan dan aplikasi maritim kami diuji pada skala kapal laut di Alfa Laval Test & Training Centre, lengkap dengan pengendalian dan kenyamanan yang tidak dapat dilakukan di laut.
Further potential in auxiliary exhaust
Recovering heat energy from auxillary engine exhaust, for example, can do more than meet steam needs in port. For vessels whose long-stroke main engines produce cooler exhaust, it can also provide a needed boost in steam production an route.
Not limited to serving onboard equipment, today's wate heat recovery systems can even be constructed to provide a boost in propulsion.