The smallest chapter in the AQUA story
If your vessel bunkers fresh water or relies on reverse osmosis, here's a little tip. Life could be simpler with proven Alfa Laval AQUA technology. With its tiny footprint and minimal need for electrical power, the new AQUA Blue Mini freshwater generator is ideal for smaller needs. Easy to use and just as easy to service, it efficiently provides 1–18 m3 of fresh water per day – with low OPEX.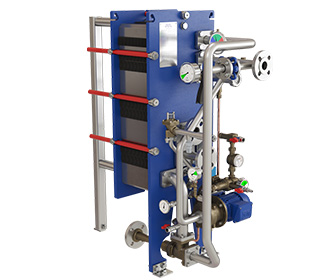 Revolutionary AQUA technology
With a minimal footprint, minimal pipework and no outer shell, the AQUA Blue Mini and other AQUA Blue freshwater generators make easy work of producing fresh water on board. The secret is Alfa Laval's unique 3-in-1 AQUA plate technology. Find out how it works.
Shrink footprint and OPEX to match
your flow
Alfa Laval AQUA technology has a history of making things smaller. Our AQUA Blue freshwater generator cut seawater needs and electrical power consumption in half.
For you who need less freshwater capacity, the new AQUA Blue Mini cuts size in half too – and greatly simplifies service by means of its non-glued gaskets. Efficiently providing 1–18 m3 of fresh water per day, the AQUA Blue Mini is a perfect match for vessels where space is a constraint.
Smarter than bunkered water
Save space and time while avoiding headaches about bunkered water's quality. The AQUA Blue Mini gives you a continuous supply of fresh water with less than 2 ppm, which can be used directly as technical water. No large tanks, no hassles in harbour – and no accumulating bunker costs.
More consistent than reverse osmosis
The AQUA Blue Mini isn't just compact. Unlike reverse osmosis, it keeps its high efficiency even at lower water seawater temperatures. There's no changing filters or clogged membranes – in fact, no complicated maintenance at all. Only a continuous supply of water that's always less than 2 ppm.
Contact us to learn more
Contact us today for more information about theAQUA Blue Mini freshwater generator.